Moog lives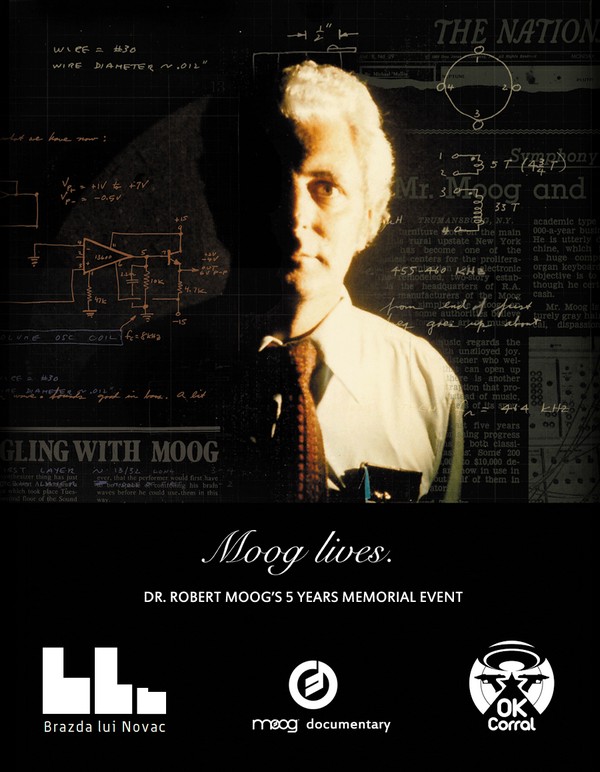 Moog lives.
DR. ROBERT MOOG'S 5 YEARS MEMORIAL EVENT
"Bob Moog is alive, he is alive in every synth that he's ever built. That guy is in every bit of technology that exists in the electronic music, he is one that took so much pride in buiding his synthesisers and really took it to his last days, last breath and believed in the synthesiser. So, as long as there is a Moog that will plug-in and turn on, he will always be alive." Scott Kirkland (The Crystal Method)
Brazda lui Novac (live)
OK Corral (special Moog dj set)
Moog documentary film screening (edit)
26 august 2010, 22h00
Club Fuchsia, Ion Brezoianu 18, BucureÅŸti
Pe 21 august 2005, părintele sintetizatorului Dr. Robert Moog a încetat din viaţă la vârsta de 71 de ani, în locuinţa sa din North Carolina. Un inginer simpatic şi modest, Moog şi-a dedicat întreaga viaţă construirii şi dezvoltării instrumentelor muzicale electronice, începând cu banalul theremin, încă de la 14 ani, continuând cu celebrele sale invenţii, sintetizatorul modular Moog, precum şi varianta sa "portabilă", Minimoog-ul, şi terminând cu celelalte 18 modele de sintetizatoare create de compania Moog Music din 1963 şi până în prezent.
Cu toate că instrumentele digitale şi software-ul de profil, care par astăzi atât de facile, depăşesc cu mult performanţele tehnice ale unui sintetizator analogic, invenţia lui Robert Moog de acum aproape 50 de ani rămâne piatra de temelie a întregului spectru al muzicii electronice. Pasiunea şi consecvenţa acestui om, aceea de a oferi muzicienilor suficient de curajoşi un instrument complet nou, cu o abordare a sunetului dintr-o perspectivă absolut inovativă, şi anume de a fi generat de un oscilator electronic în loc de metode acustice, au schimbat însuşi conceptul de muzică, pentru totdeauna.
Joi, pe 26 august, îi aducem un omagiu acestui pionier al instrumentelor muzicale electronice, printr-o adunare de seară la club Fuchsia, ce va include proiecţia unui documentar editat cu imagini şi destăinuiri din viaţa lui Bob Moog şi din experienţa unora dintre artiştii care au folosit sintetizatoarele sale, un concert live Brazda lui Novac folosind un sintetizator modular, dar şi un dj set special cu influenţe "moog"-uistice semnat OK Corral. Intrarea este liberă atât pentru ingineri, cât şi pentru muzicieni. Restul participanţilor vor fi obligaţi să memoreze, la alegere, ecuaţiile electromagnetismului ale lui Maxwell sau intervalele de consonanţă armonică ale lui Helmholtz, în vederea susţinerii unui nivel academic al întâlnirii.
"Back then [1960s], anything that didn't come out of wood, or brass instrument, or from a string, was considered somehow suspect, at least, and downright harmful, at best. People were very suspicious of electronic instruments producing musical sounds. When these sorts of sounds were first being heard by the general public, people were freaking out! It was the same sort of reaction that we think of primitive cultures having, that a photographer might steal your spirit." Bob Moog
moogmusic.com moogfoundation.org fuchsia.ro
A/P|C\E ABSOLUTE PITCH EVENTS

Share on Facebook